We Do the Hard Part
All of our vacation rental units are meticulously maintained and well stocked to ease the stress of planning your trip. You can simply focus on having fun.
Our goal is to send you out equipped exactly how we would want to be setup for our own camping adventures. We just have a single one-time setup fee to cover all of the amenities sanitizing the unit, filling the LP Gas, and orientation. Therefore, the longer you rent, the more you save (also with discounts for weekly and monthly rentals). Above all, we want you to feel like family.
Freedom to explore and be spontaneous. Get off the beaten path or hit the highway to a scenic destination. Exploring in an RV is a fun way to vacation and see the country.
Self-sufficient and self-contained.  Whether you are into glamping or boondocking (camping off grid without utilities), an RV can suit all of your needs with a full kitchen and bath as well as living and sleeping areas.
Meet new people – campgrounds are a great place to retreat, but they're also full of friendly people and activities.
Focus on what truly matters – people and shared experiences.  The family that camps together stays together.  Some of the best memories we have from our childhood and with our own kids are in a travel trailer or motorhome.
Inexpensive way to see the country – for a family or group of friends, consider the cost of airfare, hotel, rental car, restaurant dining and other expenses you can replace with an RV and the cost of rental becomes much more affordable.
For a lot of us it's about being outdoors.  RVs typically allow you to go places that may not have hotels to get nearer to nature and away from the crowds.
Pets!  RVing is probably the easiest way to travel with your furry friends – not having to worry about airplane crates or hotel policies.  As long as your pet is invisible, they're welcome in most of our RVs.
I grew up tent camping in Arkansas State Parks with my family as a kid.  We took several grand adventures out of state and many more close to home weekend trips.  My favorite camping destinations now are in Tennessee, North Carolina, Georgia, Colorado, Wyoming, and Idaho.
I got into RV camping once I was a father and husband.  My wife and I had loved tent camping, but she had an illness that prevented us from doing that.  So, I bought a travel trailer to get our family outdoors.  We spent 35 nights in our travel trailer the first year.  It was jam packed with weekend getaways, staycations where I lived at the lake for the week and commuted to work, and longer summer vacation trips.
While we were getting good use out of our travel trailer, it pained me to see it sit unused in the sun.  I found the marketplaces where you could basically Airbnb your RV and begun to rent our personal trailer.  It went mostly great and I learned a lot along the way that has shaped how I care for my guests today.
We've sold the first trailer by now – we called her Maddie and have upgraded along the way to motorized RVs and nicer travel trailers.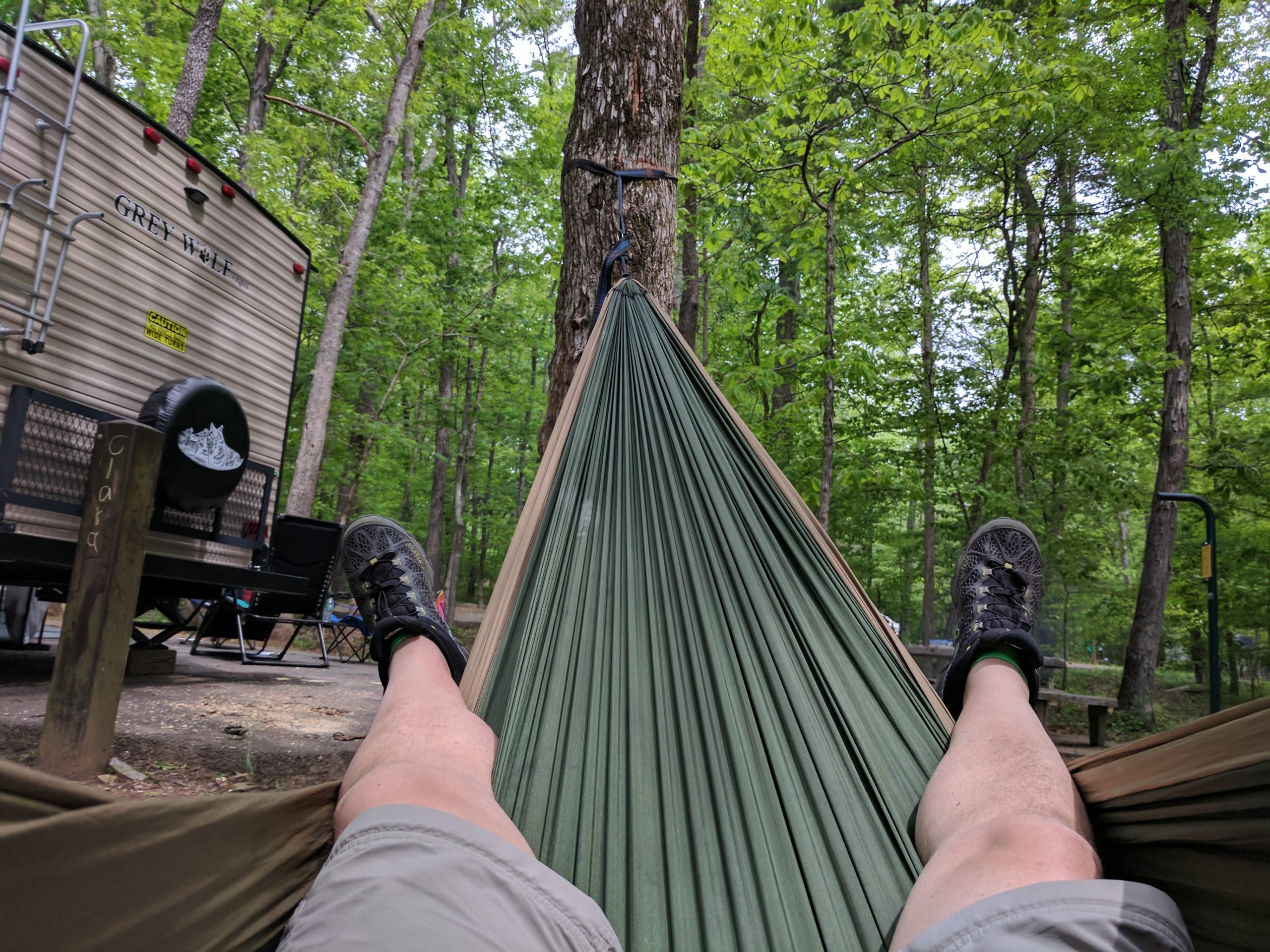 We love the ability to pack our food and clothes and hit the road, so we've equipped the trailers for you to do the same without having to pack up your kitchen and linen closet.  It's really fun to see the excitement and hear about the memories and adventures shared while vacationing in our RVs.  Let us help you author your RV story that your friends and family will talk about for a lifetime.